LDC Representatives
LDC Representatives should make their own travel arrangements for the 2018 Conference and register their claim details via the
online claim form
.
Scanned copies of receipts will need to be submitted directly to the LDC Conference Treasurer, Will Newport, in support of any claims made. Please send these to:
This email address is being protected from spambots. You need JavaScript enabled to view it.
once you have completed the online form with your claim details.
Where necessary, LDC Representatives will be able to claim reimbursement for one standard item of hold
luggage, provided that costs are related to luggage brought for use at the LDC Conference. Additional costs for luggage not needed for the Conference will not be reimbursed.
Please book flights
as soon as possible
to not only ensure seat availability but preferential fares too.
Attendees are encouraged to taxi share wherever possible.
LDC Observers and accompanying partners
Those attending as an Observer are not permitted to claim expenses for the event from the LDC Conference Fund.
GDPC members
GDPC members are also not permitted to claim from the LDC Conference Fund and they should make their own travel arrangements for the 2018 Conference and seek reimbursement from the BDA as usual after the event by submitting a
GDPC Member expense claim
form with receipts.
A reminder of the
BDA Expense claim policy can be located on the BDA website
.
---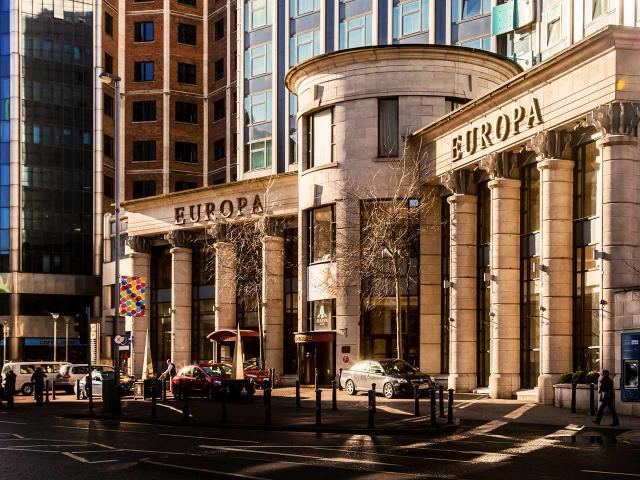 Accommodation arrangements
We have an allocation of rooms available at the headquarters hotel (The Europa) at a rate of £110 per night inclusive of VAT and breakfast. Reservations should be made through our nominated accommodation agent, MICE Concierge.
Tel: 01438 908770
Email:
This email address is being protected from spambots. You need JavaScript enabled to view it.
Online:
www.miceconcierge.com/events/LDC2018
When booking your accommodation through MICE Concierge it is very important to indicate whether you are attending the event as an LDC Representative, LDC Observer or GDPC member. This will enable us to ensure the hotel is invoice the Conference for LDC Representatives and the BDA for GDPC members. LDC Observers are liable for their own hotel charges.
LDC Representatives and GDPC members
If you are attending the event in the capacity of LDC Representative or GDPC Member your accommodation on the Thursday night (single occupancy B&B) will only be paid for if you book this hotel.
Formal proceedings will commence at 13:30 on the Thursday to facilitate as much travel on the day of the event.
Where flight schedules do not enable travel on the day please contact Fiona Feltham, Event Manager
(

This email address is being protected from spambots. You need JavaScript enabled to view it.
/ 020 7563 6876) to gain approval for accommodation the night prior.
Additional nights for weekend stays and double occupancy upgrades (£20 per night supplement) can be arranged via MICE Concierge and the additional costs involved must be settled by individuals on check-out.
LDC Observers
Please note that LDC Observers may also use MICE Concierge to book their accommodation but must settle the full cost of their accommodation plus any extras on their departure from the hotel.
Hotel booking deadline
Please note the release date for all un-allocated rooms is Friday 20 April, so do ensure you reserve your room before this date to guarantee availability and discounted rates.
---
Plan your journey
Registration is from 12:00 on Thursday 7 June, with lunch taking place from 12:30-13:30 and formal proceedings commencing at 13:30.
Conference proceedings are due to conclude on Friday 8 June at 12:30, with lunch taking place between 12:30 – 13:30.
Venue
Europa Hotel
Great Victoria St.
Belfast
BT2 7AP
Please see the hotel website for directions
Situated in the heart of Belfast City Centre, the Europa Hotel is just 3 miles from Belfast City Airport and 16 miles from Belfast International Airport. Buses and trains will drop to the hotel. If you are travelling by car you'll find both motorway links and the ferry terminals just minutes away.
Car parking:
There is a 500 space multi-storey car park adjacent to the hotel and valet parking is also available for hotel guests.
By Rail
Belfast Central Station:
Trains run regularly between Belfast and Dublin, journey time is approximately 2 hours 10 minutes. Trains run North to Londonderry, North-East to the Port of Larne, East to Bangor and South to Dublin.
By Bus
Citybus Centrelink Service 100: Provides a link between all main bus and rail stations in Belfast
By Air
George Best Belfast City Airport:
Situated 3 miles from the centre of Belfast.
The N.I. Rail service to Sydenham stops at the airport and runs from Great Victoria Street Station.
Belfast International Airport:
Situated at Aldergrove, 19 miles from the centre of Belfast. Journey time approximately 30 minutes (via the M2 motorway). An airport shuttle service operates between the City Centre and Belfast International Airport.
For more details about Belfast, things to do and getting around take a look at
www.visitbelfast.com