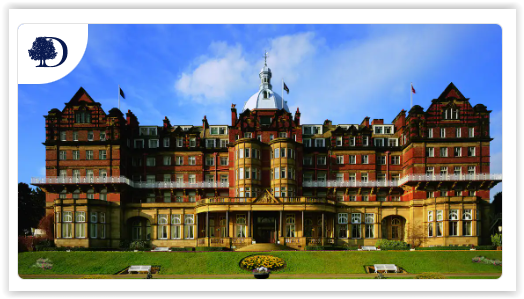 DoubleTree by Hilton Harrogate Majestic Hotel & Spa
Ripon Road, Harrogate HG1 2HU

Harrogate is well connected to nearby cities York and Leeds via strong rail and road networks and is a short distance from Leeds Bradford Airport.
TRAIN AND BUS
The hotel is a 10 minute walk from Harrogate train and bus stations (which are adjacent to each other) in the town centre.
Alternatively, a taxi rank is in operation just outside the train station.
Train:
Direct links to York, Leeds and London Kings Cross via LNER (London North Eastern Railway) https://www.lner.co.uk/
Bus:
The number 36 bus connects Harrogate with Leeds, takes 40 minutes and runs every 15 minutes at peak time. Further details available here https://www.transdevbus.co.uk/harrogate/services/HDT/36
LEEDS BRADFOD AIRPORT
Leeds Bradford Airport is just 12 miles away and is connected to Harrogate via a 30-minute journey on the dedicated A2 Flyer bus.
https://www.transdevbus.co.uk/flyer/services/YCD/A2
HARROGATE TAXIS
Main Line Taxis 01423 555555
Blue Line Taxis 01423 530830
Freedom Taxis 01423 595959
PARKING
The DoubleTree by Hilton Harrogate Majestic Hotel has onsite parking. The car park operates an ANPR system and all event attendees are required to register their car number plate on arrival at the hotel. Free to park during the day, but overnight is £12.00 per night.
Details of other car parks in the Harrogate District can be found here https://www.harrogate.gov.uk/can-i-park/car-parks-harrogate
Information regarding electric charging points in Harrogate is available on the Council's website here https://www.harrogate.gov.uk/electric-vehicles/charge-car-1
Click here to view the venue on Google Maps.