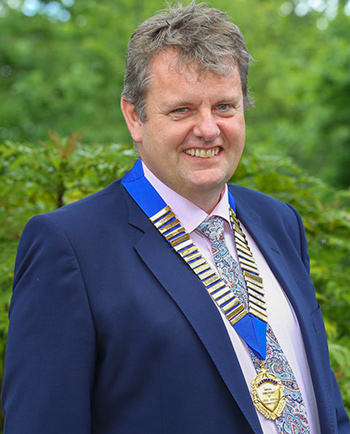 Gearing up for LDC Conference 2018
I have found it a huge honour to have been elected to chair the 67th Annual Conference of Local Dental Committees, and I look forward to welcoming you to the iconic Europa Hotel in Belfast on Thursday 7 and Friday 8 June 2018.
The agenda for Conference although in its early stages, is taking shape.
The principal theme will be dental contract reform. I have always believed that reform is essential for our patients and for the dentists we represent. We have to get it right or lose the opportunity for another generation. In the 21st century a new contract must have prevention at its core, and it must provide the treatment necessary for our older patients, the heavy metal generation. It must be made accessible to all patients including those who are most vulnerable and do not have a voice. It must be equitable to both the patients and to those delivering the care.
The Question Time forum worked really well at last year's Conference and I'm considering holding the same again this year. From feedback, delegates enjoyed the extended participation this format offered to get to the nub of the issues without too many lectures.
There is a formal conference dinner on the evening of the 7 June. I am very pleased that Professor Callum Youngson, Dean of Liverpool Dental School, will be sharing some of his more humourous views of dentistry.
I would urge you to come along and make your voice heard – I would encourage you to take up your full allocation of places and where possible, bring your younger representatives as a delegate or observer. We all understand the need for parents to bring their children to the dentist at an early age – likewise take any fear or apprehension away from the future leaders of the profession.
Motions and footage from 2017
I hope many of you have already started to discuss motions at your local meetings.
Further details of how to submit your motions
can be found here
.
The deadline for submission of motions is Tuesday 3 April.
The motions form to complete online
can be found here
---

Take a look back at the discussions that took place last year.
Footage of the conference is available here
– all broken down into watchable chunks of motions and presentations.
---
Nominations for the Unsung Hero Award
Don't forget there is the opportunity to nominate a colleague who has played a pivotal role within your LDC, but who has received little recognition.
Further details can be found here
.
The closing date for nominations is Monday 5 March.
Registration
Registration for the event will open very shortly. However in the meantime here is some information for those wishing to get their travel plans underway.
Where and when
Thursday 7 June 2018 (lunch served from 12:30 with Conference commencing at 13:30)
Friday 8 June 2018 (conference closes at 12:30 with lunch served until 13:30)
Venue
Europa Hotel
Great Victoria St.
Belfast BT2 7AP
Please see the hotel website for directions
Hotel bookings
Please click here for details
Further details about the event will be circulated to all LDC Secretaries shortly, and of course added to this site. But in the meantime please contact Fiona Feltham, Events Manager at the BDA on 020 7563 6876 or
This email address is being protected from spambots. You need JavaScript enabled to view it.
with any queries.
I look forward to seeing you there!
Joe Hendron,
LDC Conference Chair 2018