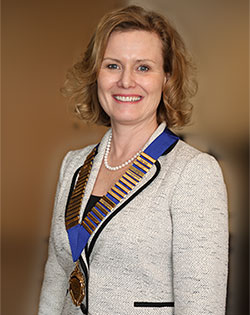 I am very much looking forward to welcoming you all to LDC Conference at the Grand Hotel Brighton on 4-5 June. We promise to complement our time-honoured tradition of debate, with innovation and new insights to enable us to shape the future of dentistry.
Motions
It is time for all LDCs to start thinking about writing and submitting motions. Your motions are crucial to the debate, they are the voice of the grassroots and point the direction, so GDPC can fight for the desperately needed improvements for our profession.
To assist in deciding which motions your LDC will propose, this year we have produced a catalogue of all motions carried in the last three years. This will show you what has been most important to dentists recently. You can also review the footage from the last two years here.
Because motions are intended to give direction for GDPC policy please find here a list of existing GDPC polices. This outlines how GDPC has acted on motions carried at previous conferences and how much they have achieved on our behalf.
The LDC Conference website provides lots of advice on composing motions and how to make an active contribution to this year's conference. Don't miss the opportunity to exercise your right to speak out!
We will be continuing with the format set last year for submitting motions with a narrative. The intention being to provide delegates with enough information to form a view and be prepared in advance if they wish to speak for or against on the day.
The closing date to submit motions is Friday 3 April.
Special observer places
Our achievements from conference benefit younger members of our profession more than anyone. We are therefore very keen to encourage more younger dentists to attend. To this end, in addition to the normal allocation of conference places we are offering 25 special observer places.
This is a unique opportunity for newcomers to immerse themselves in dental politics and hopefully launch a career-long interest. These special overseer places are reserved for those who are new to dental representation, first time conference goers and in the first decades of their career.
If an LDC has someone who meets this criterion, Secretaries can register online selecting 'LDC Special Observer' as ticket type. Conference fees are covered by the Conference Fund, with the individual LDC liable for the travel, accommodation and cost of dinner tickets if required.
We will be running an induction event for any new members just before conference starts on the first day. We hope to explain how newcomers can be most effective and to encourage them to take part and make a difference.
The LDC Conference website provides lots more advice on how to contribute.
Childcare
To maximise inclusivity, we are exploring options for childcare provision to assist delegates with young children who may otherwise be unable to attend. Please let us know if you would be interested in finding out more. You can indicate this when registering online for the event, or by contacting our event manager directly This email address is being protected from spambots. You need JavaScript enabled to view it..
Elections of members during conference
We will be providing more information this year about the seven key positions elected during the conference. With a better idea of what is required of the roles this should encourage delegates to consider taking on more active roles.
Chair elect of conference
Honorary treasurer
Two honorary auditors
One representative to GDPC
One representative to the board of managers of the British Dental Guild
One representative to the Conference Agenda Committee
Do you know an unsung hero?
We all have members in our LDCs who have worked tirelessly during their professional lives, often in the background never seeking the limelight, giving up many evenings for LDC business, taking valuable time out of their practising careers.

At the LDC Dinner, we give an annual award: 'Unsung Heroes'. If you have someone like this on your committee who you feel deserves recognition, please consider nominating them.
Further details can be found online here and the closing date for nominations is Friday 3 April.
Keeping it green
We are trying to reduce the amount of paper and single-use plastics at the event. Copies of conference papers will as standard only be made available electronically; if you do require a hardcopy of the documentation you can request this during the online registration process for the event.
Third Annual Golf Competition
This will be taking place on Wednesday 3 June 2020 at Dykes Golf Club. The event is being organised by David Cottam. Further details and a contact form are available here.
REGISTRATION, TRAVEL AND HOTELS
Registering for the event
Conference places and dinner tickets should be booked online. Closing date Friday 3 April
(Please be ready to enter individual email addresses and GDC numbers for all Conference attendees. Non-GDC registrants should enter 'N/A')
How many people can my LDC send?
If you are unsure how many people your LDC can register for the Conference, you can check the list of permitted Representatives for each LDC here.
Where an LDC is entitled to send a sole Representative, they are also permitted to send an accompanying Observer. The conference fees for this permitted Observer will be covered, however the LDC is responsible for funding travel and accommodation expenses.
Plus, as highlighted earlier, in addition to the usual allocation of places we have some places reserved for Special LDC Observers – (this special ticket type must be booked via LDC Secretaries and is for those who are new to dental representation, first time conference goers and in the first decades of their career).

Hotel booking
Book bedrooms before 3 April. Details of how are available here.

Travel and expenses
Information about travel arrangements and expense claiming can be also found on the website.
Further information and queries
Please contact our event manager, Fiona Feltham (This email address is being protected from spambots. You need JavaScript enabled to view it.) should you have any questions about registration or the arrangements for the event.
I look forward to seeing you in Brighton!
Leah Farrell

Chair, Annual Conference of LDCs 2020